When TradePMR, a custodial and brokerage-services provider dedicated to serving registered investment advisors (RIAs), announced their plans earlier this year to celebrate its 20th anniversary by organizing and participating in 20 service projects, all led and staffed by TradePMR employees, it sounded like an ambitious goal.
To the delight of the company, as well as the Gainesville community in which TradePMR is headquartered, the employees not only rose to meet the challenge but actually ended up exceeding their goal.
By the initiative's end, twenty-two charitable and community service organizations in the areas of health, education, family services, pediatric cancer research, mental health, women's issues, breast cancer research and animal causes were served and supported. Among the recipients were the Ronald McDonald House, Boys and Girls Club, Alex's Lemonade Stand, Lyrics for Life, Tyler's Hope, NAMI and March for Babies.
"As a company, we take great pride in our white glove service," said TradePMR founder and CEO Robb Baldwin. "The 20-for-20 Initiative allowed TradePMR to extend this cultural point of pride to the communities in which we work and live. We are excited to have dedicated our 20th year to community service."
As part of the initiative, TradePMR executives and staff members hosted several events for families residing at the local Ronald McDonald House. Catherine Sibrey, an employee in the company's cashiering division led the Ronald McDonald House service project.
"I just love volunteering", Sibrey says. "I'm so grateful to work for a company who supports my volunteer work."
Sibrey smiled while relating the story of a mother she met during an early visit to the Ronald McDonald House. "Her child was in the ICU. We were talking about pie and she said she hadn't eaten a banana cream pie in a long while so the next time we came back to serve, I made sure to bring a banana cream pie for her."
Brandon Storch heads a team of employees dedicated to assisting and supporting TradePMR advisors. Storch speaks with great enthusiasm regarding his experience helping to build a "Habitat for Humanity" home with his co-workers.
"Showing up in the early morning on a Saturday to volunteer for any event, one would expect to maybe need a few more helping hands", he says. "However, the TradePMR family did not disappoint. Projects that should've taken hours at the home took minutes because we had more hands and muscle involved than originally planned. Working with our team to accomplish tasks for the benefit of those in need was an opportunity forever cherished."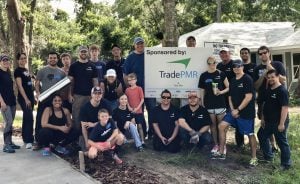 Executives at TradePMR are looking forward to sharing a comprehensive recap of their accomplishments via the 20-for-20 initiative during the company's annual "Synergy" conference in May of 2019.
"I am inspired every day by the people with whom I work and the advisors TradePMR serves", Baldwin says. "I can't wait to share more highlights of our 20th anniversary and this successful year-long charitable campaign."
ABOUT TRADEPMR
For more than two decades, TradePMR has worked exclusively with growth-minded independent registered investment advisors (RIAs) helping to provide the innovative technology tools and support needed to transform their businesses. The privately-held brokerage and custodian services provider (Member FINRA/SIPC), based in Gainesville, Fla., works to streamline fee-only investment advisors' operations through comprehensive custodial, operational and trading support. For more information, visit www.TradePMR.com.
Follow TradePMR on Twitter, Facebook, and LinkedIn for the latest news, updates and event information.
Securities offered through Trade-PMR, Inc., member FINRA/SIPC. Custodial services offered through First Clearing. First Clearing is a trade name used by Wells Fargo Clearing Services, LLC, Member SIPC, a registered broker-dealer and non-bank affiliate of Wells Fargo & Company. TradePMR and First Clearing are not affiliated.