A Q&A with TradePMR Head of Trading, Jason Simmons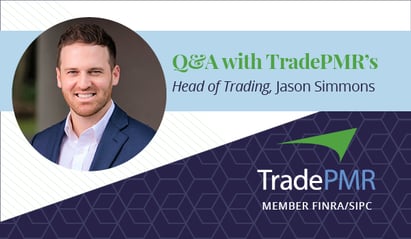 As clients expect more complexity from portfolio management, and advisors' time is spread increasingly thin, enhanced trading capabilities can be a great way to maximize advisor efficiency and help ensure accuracy while delivering on clients' evolving needs. To that end, TradePMR announced that we have recently released new model sleeve trading capabilities on our Fusion platform – available now to TradePMR advisors at no additional cost. We sat down with Jason Simmons, Head of Trading at TradePMR, to learn more about this exciting new offering.
What does it do?
With this new tool, advisors at TradePMR can rebalance securities for clients within a model without affecting cash or other securities in that account. While third-party providers offer similar capabilities, TradePMR advisors can now access model sleeve trading within their Fusion account.
With this new tool, advisors can easily rebalance overweight and underweight securities within a given sleeve, while maintaining the actual weighting of the model. This helps advisors rebalance with complexity without disrupting portfolio components that they'd like to remain consistent. If advisors find that their equity model sleeve, for example, outperforms their fixed income sleeve, they can rebalance the equity securities while keeping that equity model at an overweight position relative to the total account value.
Why did your team launch this new tool?
This tool was launched to improve advisors' trading workflows by delivering on two main points: efficiency and accuracy. By segmenting account info into individual models, and enabling easy rebalancing within those models, advisors can manage assets without needing to rework the full account value while reaching a net trade amount close to zero. Additionally, advisors can use this new tool to rebalance across hundreds of accounts in a matter of seconds and can use the same sleeve across multiple accounts. This better enables them to trade with scale and complexity, further providing their value to clients while limiting the possibility of errors when trading across accounts.
How can advisors access model sleeve trading?
If you're a current TradePMR advisor, you can access the model sleeve trading capabilities within the Fusion platform. No need to employ third-party systems or navigate between disparate platforms, the capabilities are all within your Fusion trading workflow. You simply need to turn on the capabilities by accessing settings, toggling Model Sleeve Trading from "off" to "on", and you're good to go. Your "Rebalance by Model" tile in Fusion will transition to "Rebalance by Model Sleeve" – the workflow to create a rebalance basket remains the same, so you'll continue using the trading functions you've become accustomed to.
We are consistently looking for ways to expand our offering, and model sleeve trading is the newest example of that goal in action. Keep an eye out for new capabilities launching in the coming months and years – we will continue pushing to ensure advisors working with TradePMR have the best available technology to deliver exceptional service to their clients.
Trade-PMR, Inc., member FINRA/SIPC