By Cris Frankel, Vice President of Business Development at TradePMR
---
10 Points to Evaluate in Your Next Provider.
Need to find a new RIA custodian? Or add a second custodian? You're not alone.
Thousands of RIAs will undergo a custodial merger within the next year and are faced with a difficult choice: wait-and-see what will happen or take control of the move and transition to a new provider on their terms.
The significance of this decision was echoed in a recent report from Bob Veres at Inside Information1 which addresses this critical moment for RIAs: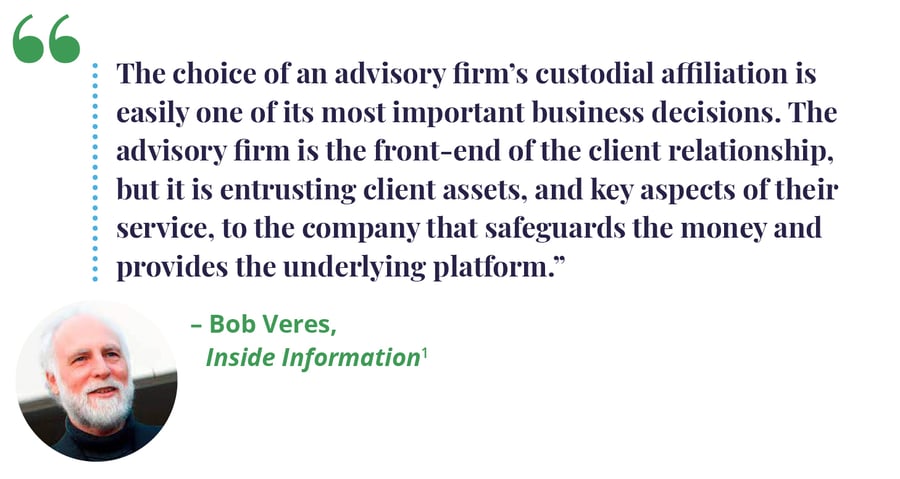 So, how can RIAs confirm if their current or prospective provider is the right fit for their business and their clients? It comes down to a few key traits.
As Vice President of Business Development at TradePMR, I talk to hundreds of financial advisors each year. I've boiled down those conversations and best practices into what I consider essential points to evaluate in an RIA custodian.
Digging in with Prospective Providers
Through each conversation the advisor has with prospective RIA custodians, the advisor learns more. Perhaps they hear about an offering they were previously unaware of or an approach to service that could benefit their team.
Regardless of the RIA's unique situation, many of the questions and concerns we hear remain the same:
Is my technology going to be replaced by something that might not be as good?
Will my current integrations continue to be supported?
Because of my AUM size and growth history, will I experience long hold times when I call to ask questions?
Do you have a retail offering that could compete with my team for client accounts?
How much will this move cost my firm?
These concerns are valid and worth diving into with any prospective provider. These answers can be hard to find online and require a more personal touch over the phone or in person with a provider's team.
10 Points to Consider
When evaluating custodial service providers, there are specific points to remember. Below are ten considerations that I believe should be prioritized when considering your current or prospective RIA custodian to determine if they could be the right fit for your firm.
Seasoned Transitions Team – Migrating your clients to a new custodial service provider sounds like a big task – and it is. Be confident that the company you're moving forward with has a track record of working hard to make the transition process as simple for your firm as possible. This can help to ensure all data is transitioned accurately and may minimize the impact of the transition on your clients.

Account Support – As an advisor, getting your client accounts updated, opened, and closed efficiently is essential. Experienced account teams who guide you from application completion to customer identification verification are something every RIA deserves.
Modern Onboarding – You work hard to attract new clients. I believe you should be sure to pick a company that offers a fully digital onboarding process, where you can seamlessly convert prospects into clients with just a few critical pieces of data. Additionally, I feel there should be a paperless process for these applications to automatically kick off necessary onboarding activities directly in one consolidated location. These automated processes, along with DocuSign2 integrations, may save you and your clients valuable time while striving to ensure all paperwork is completed fully and accurately.
Ongoing Support – After your transition, your new custodial service provider should have a proven post-transition team that will serve as your day-to-day contact and helps answer any questions that may arise. It's critical that your team has ongoing support to help when issues pop up, and the more that support team knows about your business and its unique challenges, the better.

Knowledgeable

– I believe finding an RIA custodian whose team knows you by name, understands your firm's unique offering, and how you deliver value to your clients is worthwhile. While this may not seem like a big deal, and certainly does not feel like the norm today, I believe it's a signal that the custodial service provider understands your business and is in a position to support your success, putting you and your clients first.

Communication – When you call your RIA custodian, do they use a confusing call center? If so, you could be looking at long wait times, or you may be bounced around from person to person, unable to get answers to your questions. I think it's essential to try to find a company that picks up the phone when you call and offers one-on-one support, every time. It seems this service level is becoming rare but finding it can help you keep focused on serving your clients and growing your business.
Cashiering - Fund movement should be done quickly, securely and accurately. Taking the time to ensure your custodial services provider prioritizes accurate cashiering can help facilitate long-term client retention. Is in-house check scanning an option? How long does it take to cut a check to your customers? Many advisors don't ask these questions when evaluating providers and could regret it down the line.

Trading

– A suitable trading desk should be there to help execute trades and guide you through complex options transactions, basket trades, and model trading. Additionally, they should work with you on strategy rebalancing, frequent trading questions, and assembling customized portfolios. I feel RIA trading capabilities from your custodial services provider should go beyond technology – it needs to incorporate support.*
Operations - Whether your firm is just getting started or needing extra help to close out a task, you will want to ensure the custodial service provider has a reliable operations team. This team should work with you to provide ongoing assistance throughout your relationship.
Due Diligence – You have heard the saying, "If it's meant to be, it's up to me." The same goes when considering making an RIA custodian change for you and your clients. Take the time to explore your options. Evaluate your custodial service providers on these points and schedule a demo of the technology the company has to offer. In the long run, your time invested in your search may be well worth it.
Are you thinking of making a switch?
If you take the time to evaluate these ten items and find that your current RIA custodian hits all the marks, I feel you're in great shape. They probably understand your unique needs and have the infrastructure and talent to support your business. If not, it may be time for us to connect.
We can dive into your unique business and how TradePMR's RIA-centric custodial services and technology could benefit your firm. Let's walk through TradePMR's Fusion independent RIA platform to see if our technology and white-glove service could help take your team to the next level.
1 Custodial Alternatives, Inside Information by Bob Veres. Published August 10, 2022.
2 DocuSign, Accessed September 19, 2022
* TradePMR does not provide investment advice or securities recommendations
DocuSign and TradePMR, Inc. are separate, unaffiliated companies.
TradePMR and Bob Veres are not affiliated.