TradePMR's Customer Advisor Panel Drives the Fusion Platform Development
---
TradePMR was founded nearly 25 years ago by Robb Baldwin, a former RIA (registered investment advisor).
As an advisor, Robb experienced first-hand the issues that poor service and unfit technology from an RIA custodian can cause for growing firms. He set out to build a custodial service provider that was 100% focused on supporting RIAs with white-glove service and advanced technology.
Since its inception, TradePMR has done just that.
Today, TradePMR delivers its trademark white-glove support alongside the advanced Fusion custodial platform to hundreds of RIAs nationwide. The firm's approach to service and technology seems to have resonated with advisors. Fusion has been named the top-rated custodial platform by advisor satisfaction three out of the last four years in the T3/Inside Information Survey1.
While Robb's experience as an RIA has been instrumental in guiding the direction of TradePMR, the industry has changed a lot since he was an advisor. To stay up-to-date with these trends and ensure the firm continues to deliver the solutions RIAs need, TradePMR looks to actively solicit feedback from the advisors using Fusion every day.
To help achieve this goal, the firm formed the Customer Advisory Panel, or CAP for short.
CAP – Formalizing Feedback for TradePMR
CAP was founded at the beginning of 2021 to develop a more formal way to collect in-depth feedback from advisors using the Fusion platform. Today, CAP includes more than 20 RIA firms and approximately 40 individual participants.
As a member of CAP, advisors:
Participate in quarterly discussions with TradePMR's Product, Technology, and Service teams on processes, products, and how the firm can better meet their needs.
Gain early access to new features in Fusion before launch, with an opportunity to share feedback and suggestions before the offerings are shared broadly with all advisors.
Access technology demonstrations for existing Fusion features and new offerings from the TradePMR team members who have built those features.
Receive initial insights into upcoming changes to TradePMR's offering, with opportunities to share input on ways TradePMR can better deliver those improvements.
Deliver direct feedback to the TradePMR teams responsible for developing the Fusion technology.
CAP in Action – Model Sleeve Trading
Within just a short time, the feedback from CAP members has already started to impact the Fusion platform.
In 2021, a CAP member said they used a third-party provider to access model sleeve trading. While Fusion's RIA trading capabilities are broad, this was a feature Fusion was missing.
After some research, the internal team at TradePMR found that some RIAs working with the firm were leveraging model sleeve trading capabilities from third-party providers. In short order, the TradePMR Technology and Product teams got to work and launched model sleeve trading within Fusion.
That feature is available to RIAs at no additional cost, right within their central trading platform in Fusion.
This type of feedback is invaluable to TradePMR and the RIAs with whom the firm works. The TradePMR team prides itself on being incredibly nimble – if there are features that advisors would like access to within Fusion, the team wants to hear about those features.
If those are capabilities that the team can quickly build out or add to the firm's long-term technology roadmap, that's great. If they're capabilities that make more sense to access via integration, that's fine too. TradePMR is constantly exploring new options for API integrations, and understanding advisors' wants and needs is a critical step in setting up the right connections with the right providers.
Feedback at the Core of TradePMR's Approach
Even before the launch of CAP, feedback has always played a central role in TradePMR's technology development.
The firm's Product and Technology teams work to consistently expand and evolve the Fusion technology roadmap. While some of these planned capabilities come from internal innovation at TradePMR, many come from advisors' feedback.
TradePMR's support teams, including Advisor Services, connect daily with advisors. They hear advisor pain points and work to understand how TradePMR could help alleviate those challenges. That information feeds directly into TradePMR's technical teams, helping identify new areas to expand the offering and meet advisor needs.
TradePMR's number one priority has always been supporting RIA growth. Any tips from advisors on how the firm can better accomplish that goal are always welcomed, whether through CAP or in ongoing conversations with the TradePMR team.
Is Your Voice Being Heard by Your Current Provider?
We should talk if you feel like your RIA custodian isn't listening to your feedback.
Advisor voices made Fusion the top-rated custodial platform for three of the last four years.1 Fusion will never be finished, and we look for advisor insights to deliver a platform that makes your life easier and streamlines how you can service your clients.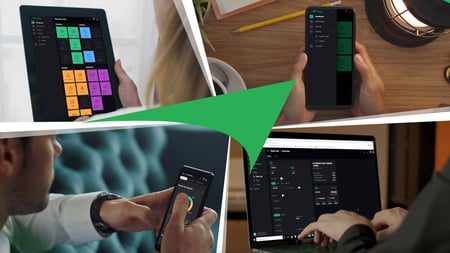 The TradePMR team works to earn your business every day – let's see if our approach to RIA custodial services and technology could benefit your unique firm.